MCD UltimateCarbon K600 TWIN
MCD X4 Drift Edition 340 fullmod reedcase
LOSI General Tee BZM Super 50 MX
---
---
En tiger är ute och promenerar i skogen när det plötsligt smäller till, och ut ur buskarna hoppar en elefant som kastar sig på rygg och asgarvar! Sen går elefanten in i buskarna igen, En ny smäll kommer, och ut ur buskarna kommer elefanter, slänger sig på rygg och asgarvar! Efter femte smällen frågar tigern vad elefanten håller på med.
- Jo, svarar elefanten, jag är inne i buskarna och sätter på småapor, och när det kommer för mig exploderar dom!

(Hoppas den inte är för låg)


Skickat från min iPhone med Tapatalk
---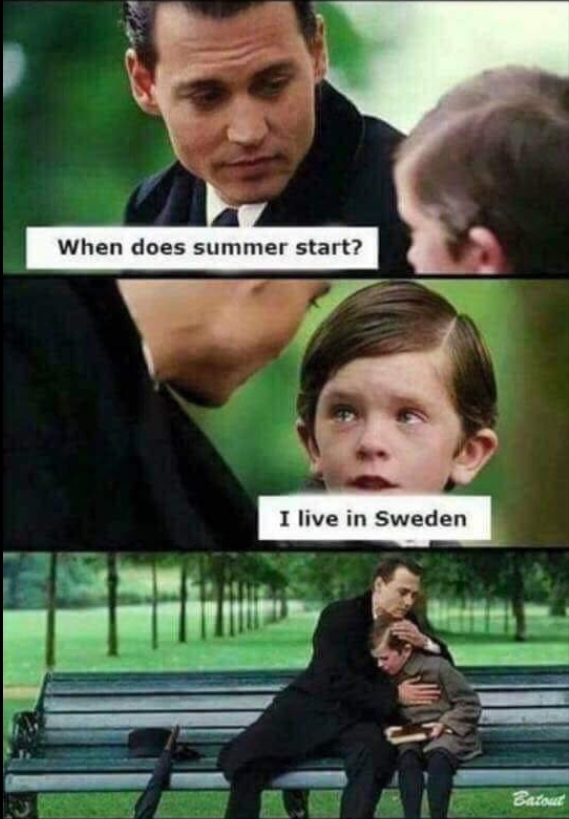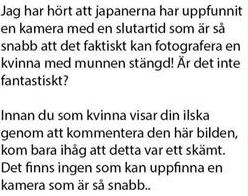 ---
Posts: 7995
Joined: 30 Oct 2009, 22:18
Phone Number: 0705919847
Location: Erikslund/Ånge
Contact:
"A car is just fast enough when you stand in front
of it in the morning and are afraid to unlock it."
-Walter Röhrl
---
En brutta smög sig in på herrarnas toalett eftersom det var en jäkla kö på damernas.
Hon satte sig bredbent över pissoaren och började kissa.
När hon var färdig drog hon av en riktig rökare så det skorrade i väggarna.
Killarna inne på toaletten tittade med stora ögon på tjejen.
-Vad? Sa hon högt och tydligt.
-Ni skakar ju eran när ni är klara, då kan väl för fan jag blåsa min torr!


Skickat från min iPhone med Tapatalk
---
En mobiltelefon ringer och en av männen i omklädningsrummet svarar "hands-free" med högtalaren på
Alla andra i rummet lyssnar också
Mannen: HALLÅ!
Kvinnan: Älskling det är jag. Är du på klubben?
Mannen: Ja
Kvinnan: Jag är i sta'n och har hittat en fantastisk läderjacka. Den kostar bara 7.500 kronor. Är det OK om jag köper den?
Mannen: Ja då, naturligvis, om du nu tycker så mycket om den.
Kvinnan: Nu när jag har dig på linjen så...... Jag var också just förbi Mercedes för att få monterat den där stjärnan du vet. De har fått in 2011 års modell och de hade en superhäftig SL500. Det är just en så'n som jag alltid önskat mig.
Mannen: Vad kostar den då?
Kvinnan: 2,2 milj kr. i standardversionen.
Mannen: OK, så köp den då, men för det priset skall det också ingå vinterhjul!
Kvinnan: Tack, älskling vad du är gullig. Så var det bara en sak till. Sommarhuset som vi tittade på förra året, är till salu igen. För 10.500.000 kr.
Mannen: OK, bjud bara 10 miljoner. Det accepterare de säkert och gör de inte det så ge dem den där halva miljonen till för det är ju ett bra pris ändå.
Kvinnan: OK. Vi ses senere. Jag älskar dig, raring!
Manden; Hej då - Jag älskar dig också.
Telefonsamtalet slutar och de andra männen i omklädningsrummet stirrar på honom - mållösa - tills mannen med ett stort leende säger:
Är det någon här som vet vems mobiltelefon det är?
))
Skickat från min iPhone med Tapatalk
---
Min brödrost funkade inte så jag slängde den i sjön...

NU rostar den!
---
MCD RR5 XL ULTIMATE
MCD XR-5 XL ULTIMATE
N-R-P ULTRON Zr ala Emanuel
INFERNO MP9e
INFERNO MP9e TKI3
CARISMA GT
---
Vet ni va de är för likhet mellan myggor å fruntimmer?
Dom surrar å surrar å surrar å tillslut så suger dom
Skickat från min iPad med Tapatalk
---
Who is online
Users browsing this forum: No registered users and 1 guest